Years 7 & 8 Humanities Blog
What has cooking got to do with Humanities class? Seems a strange start to a lesson that way and yet, we took time out of our regular studies to prepare some food on 17 March 2016.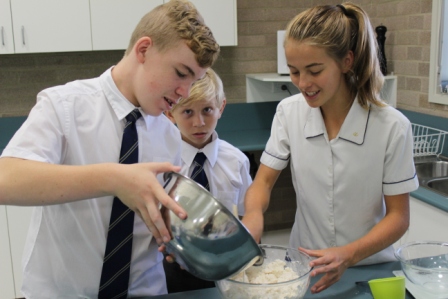 The Year 7s recently completed an assignment on early Christian missionaries to Britain. One of the choices for this was St Patrick, who died on the 17th of March 461 AD. As many of you will know, this has now become a worldwide day of celebrating all things Irish.
So, back to the baking…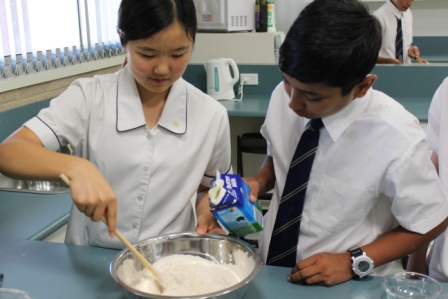 The Year 8s made some Irish soda cake for us to all share at the end of the day. The recipe is pretty close to Aussie damper and after just a little bit of instruction and help, they managed to get the contributions made and into the oven!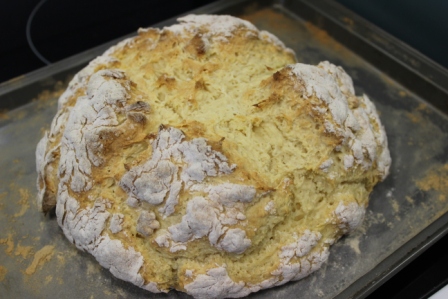 Later in the day, the Year 7s had their opportunity to share with the rest of the class. Those who had chosen St Patrick presented some of their learning, each picking up on a different aspect of St Patrick's life.

Even though we are a protestant school, not a Catholic one, the world at this time was of a united Christian church with missionaries sharing the gospel to surrounding regions. Any missionary or Christian personality in History will have much to teach us about how to live for God in their context and their time. Hopefully, these people will be an example to all of us and inspire us, (fellow saints), to be faithfully living for God where we are.
This is one student's reflection on the life of St Patrick and what may have motivated him to be so zealous for the gospel:
Patrick's Capture as the Catalyst
When he was about sixteen, Patrick was captured by Irish pirates and taken from his home in Britain. He was forced to go to Ireland and made to work in the fields on Slemish Mountain as a shepherd taking care of sheep. The Irish were considered barbaric and unsophisticated. He lived like this for six years before escaping and returning home. He escaped the slavery by sneaking to the docks then getting on a ship that took him safely to Britain with guidance from God.
Saint Patrick did not have God in his heart, but when he was captured something changed inside him. Through hardship he came to recognise the love, kindness and mercy of God. Later he had his eyes and heart opened to the Bible. It was the slavery, hardship and trauma, which brought Patrick closer to God. This played a significant part in Patrick's life and was probably what motivated him to become a missionary and convert the Irish to Christianity.
Being under such circumstances he was probably forced to act and think like an adult before his body and mind were ready for it, like the children in the Second World War. He might have even been mentally damaged because he was carted off to this strange, foreign country and left to work as an adult. He was like this for six years. His body may have suffered from being out in the harsh weather looking after animals, and was at times deprived of food, rest and water. The impact of capture can't be underestimated due to the forced growth which lead Patrick to the revelation of God and resulted in his lifelong desire to reveal God to others. So an abused child emerges as a missionary, like a caterpillar into a moth. (Rachel, Year 7)
After this time of reflection and sharing, it was time for another type of sharing – the food and celebration!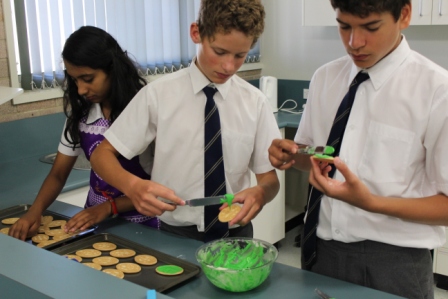 Year 7 got a nice surprise to see (and smell) the freshly baked soda cake, sample the green iced biscuits and of course, drink something green!
Mrs Jocelyn James, Secondary Humanities